Thursday, 06 March 2008 13:52
Hi all, just a few updates from the latest event that happened from the 29th February to the 2nd March at Crawford College, La Lucia. Pictures of the event are located here.
Setup
We had an amazing turnout of people, in fact some may argue too much for the venue to cater for. The setup of the venue went smoothly and we would like to thank all those that helped setup the venue on Friday. The LAN started fine, with just a slight hiccup or 2 here and there and by about 10pm on Friday evening, the LAN was running smoothly.
Tournaments
Evax ran our tournaments for us and being the first time he has done something like this, we all think he did a brilliant job and Evax has agreed to continue running the tournaments for FRAG. The winners of the tournaments are as follows:
Call of Duty 4
In the finals we saw FiB up against NBK and in the end it was FiB who came out tops; The respective teams were as follows:
FiB; Evax, Scoper, Craolia, Pooks and Kaname
NBK; Waldo, Rogue-Trooper, Azazel, D@>< and Draconus
A picture of the winners of the COD4 tournament:
FiB(apologies for the poor quality of photo, it was late...(",)
A picture of the runners-up of the Call of Duty 4 tournament:
NBK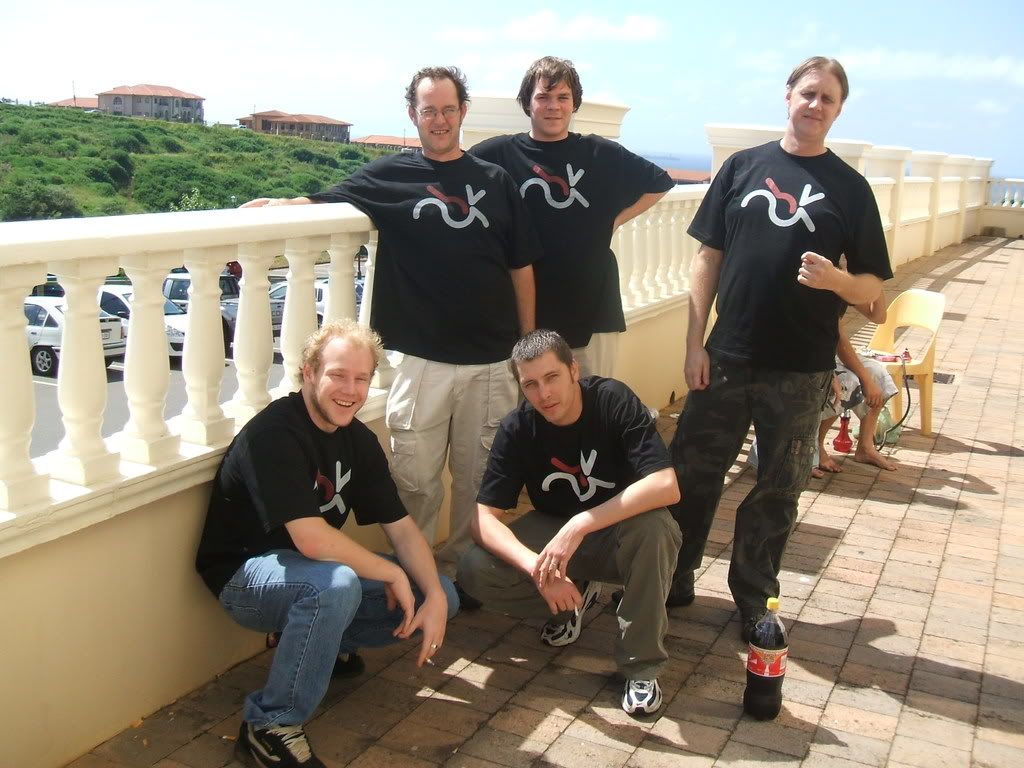 DoTA:

The finals for the DoTA tournament was held between TA and once again, FiB. FiB won the DoTA tournament as well:

The Teams for the DoTA tournament:

TA; Sense1Gohan, Sicko, Buttrfingrs, Highlander and Smok1Bong
FiB; Evax, Scoper, Craolia, Pooks and Kaname

All in all, the tournaments were well contested, but yet still proved to some of the clans there is a lot more practice needed. What better place to come and practice and compete than at FRAG LAN. Make sure you book for the next event, it's going to be even better.

See you there!!!
Last Updated on Friday, 07 March 2008 12:01
Tuesday, 26 February 2008 12:12

WOW - we will have 3 x 48-port Gigabit Switches at the February event starting this Friday!! TVR Durban along with Netgear South Africa have agreed to sponsor FRAG LAN with a 3rd GS748T 48-port managed gigabit switch.

We can now guarantee our network will be 100% gigabit! Hope you enjoy the news as much as we did.

See you on Friday.

Last Updated on Tuesday, 26 February 2008 12:18

Thursday, 21 February 2008 15:00

Hey all,

 Well, the bookings are coming in fast and furious and we have decided that due to LANgames being down and others not being able to book via online, e-mail, etc. we will only be able to keep the bookings until 8pm on the Friday night. If there are gamers waiting at the door that haven't booked, we need to let them game. That's what they are there for.

Wow - this is going to be a good LAN!

DouglasH

Last Updated on Tuesday, 22 May 2018 21:10
<< Start < Prev 21 22

23

24 25 26 27 28 29 30 Next > End >>


Page 23 of 30